News from Helen Moulder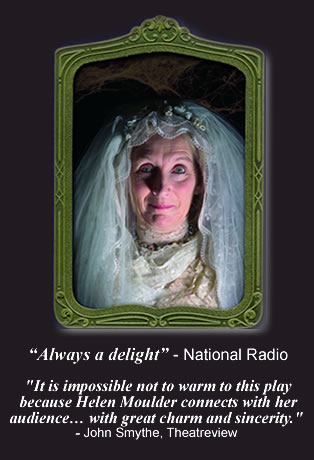 Read the review here
Dear Wellington Friends,
It's a while since I've emailed you, so thought I would keep you in touch with what's going on, including touring Playing Miss Havisham around NZ in August. But first, I want to heartily recommend the play on at Circa at the moment, Midnight in Moscow by Dean Parker. Set in the NZ embassy in Moscow in 1947, I saw it last week and felt tremendously proud of NZ theatre to have produced such a gem. It finishes on June 8th, so try and see it this week.
Secondly, as I said I am touring Playing Miss Havisham around NZ in August, playing in 20 places. Have a look on the Arts on Tour website for all the towns in case you have friends in the South Hokianga, Riverton, Onewhero, Geraldine, Coromandel etc etc.
Thirdly, I'll be in Sydney in early October in case you know anyone who might be interested in having Playing Miss Havisham in their home. I have a couple of nights free.
Penultimately, if that's a word, I writing another solo play Gloria's Handbag, with Sue Rider again, and we hope to launch it next year sometime in Wellington. Will let you know.
Lastly but not leastly, Rose Beauchamp and I have started work on a sequel to The Legend Returns. Who knows when that will come to fruition, but we are having a lot of fun. So watch this space!
Good wishes
Helen Moulder
Willow Productions
Website: www.willowproductions.co.nz